If you would like to get into our 12-week full-time software engineering course or 25-week part-time software engineering course, please apply from our website and pass the Technical Check-in.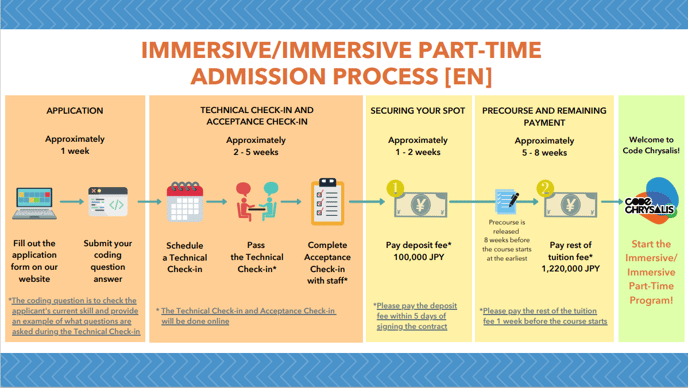 Apply through the web (https://www.codechrysalis.io/apply) and submit your coding question
Schedule a Technical Check-in
Pass the Technical Check-in
Have Acceptance Check-in
Receive contract and payment details
Agree to the contract and pay the deposit fee
Start working on Precourse
Finish Precourse and start the Immersive!


The Immersive and Immersive Part-Time application process is the same.
Here are some blog posts you might find useful:
How to Get Into Code Chrysalis — All About Our Immersive Admissions Process
10 Things People Struggle with on the Code Chrysalis Immersive Technical Interview